If you are a tenant, who is in the process of vacating their current rental property, then you have a ton of things to deal with. Starting with the search for your next rental accommodation, through getting yourself and your belongings there safely, to receiving your rental deposit back from your landlord, it is a process which should be made as easy and manageable as possible.
If you are feeling the heat of too many issues, and too little time to deal with them all, then perhaps we at Go Tenancy Cleaning Carshalton can lessen the stress and handle your end of tenancy cleaning commitments in a professional, efficient and affordable fashion, so you have one less thing to worry about, and more chance of getting your rental deposit back from the landlord.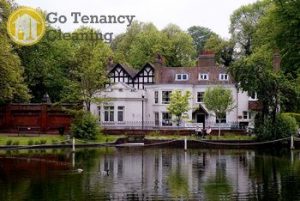 We know how crucial it is to meet your landlords' end of tenancy cleaning requirements, and we also know how demanding landlords and rental agents can be when it comes to releasing your money, this is why we aim to provide rental customers with a bulletproof end of tenancy cleaning service that leaves nothing to chance. We guarantee to provide you with the right cleaning service at the right price. Our end of tenancy cleaning is of the highest possible quality, and the cleaning process itself will be carried out with all due care and attention, just as expected by a truly professional cleaning company.
The level of cleaning results we will deliver is guaranteed to meet and exceed your landlord's expectations, and leave them lost for words. Our super-efficient cleaning teams, made up of highly skilled cleaning technicians will visit the property at the requested time and commence work immediately in order to complete the job within the shortest time possible and with minimum disruption to your daily schedule.
Our pro's advice
Go Tenancy Cleaning Carshalton recommends having the end of tenancy cleaning performed as late as possible, or just before the final property inspection as this way the whole house will be freshly cleaned, and in tiptop condition, just as the inspecting party wants it to be. The end of tenancy cleaning we offer is a fully comprehensive service that covers the entire property from top to bottom, inclusive of hard to reach places, or out of sight areas which are usually missed during cleaning. We work with professional grade cleaning equipment, materials and cleaning products.