In many cases professional carpet cleaning is a compulsory requirement for vacating tenants. If you need such cleaning to be carried out on your carpets then our professional grade solutions are definitely right for you. We guarantee optimal results without risk of damage. Specialised carpet cleaning in London fits snuggly and affordably as part of our end of tenancy cleaning treatments, of course it is also available as standalone option at a very reasonable price.
Why do carpets need professional cleaning?
Carpets see a lot of daily use and abuse so it doesn't take long for most carpets to start looking dirty and tatty. The fibrous nature of carpets causes them to accumulate a decent amount of dust, pollen, dirt and bacteria. Whether part of the end of tenancy checklist or not, leaving the carpets dirty is not an option.
Dirty carpets also diminish indoor air quality which is bad for children and people with skin and respiratory conditions. In other words a clean carpet allows for healthier indoor environment. Staining is also another problem for carpets. The average carpet is quite frequently on the receiving end of many thrills, spills and spots. Sometimes people try to tackle stain removal using homemade treatments – our advice: refrain from using such stain removal methods as they are likely to do more harm than good.
Clean all carpets and the rest of the property
Pro end of lease cleaning in Chelsfield, BR6
Pro end of lease cleaning in Chingford, E4
Pro end of lease cleaning in Chiswick, W4
Pro end of lease cleaning in Church End, N3
Pro end of lease cleaning in Clerkenwell, EC1
So what do to when carpets need proper cleaning? By all means use our professional carpet cleaning service in London and be treated to outstanding results without risk of damage or high costs.
Steam cleaning & dry cleaning in London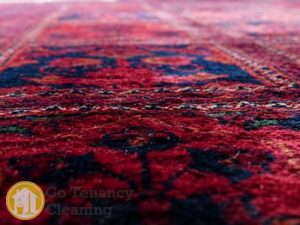 The Go Tenancy Cleaning team qualified and experienced in both steam and dry carpet cleaning. The two methods vary in terms of cleaning systems and application but yield the same great results. Which of the two is better suited for your needs depends on the type of carpet, its current state, and to an extent the nature of staining/amount of soiling we are dealing with.
Steam cleaning – uses the natural cleaning power of hot, pressurised steam, safe and suitable for all types of natural and synthetic fibre carpets, highly effective in removal of soiling and stubborn stains.
Dry carpet cleaning – uses less water and allows for reduced drying time, involves application of shampoos and mild detergents, also suitable for all types of natural and synthetic fibre carpets.
All work carried out by qualified London based technicians using industry certified cleaning systems and materials.
We rely on modern carpet cleaning equipment
Our efficient carpet cleaning services in London never fail to offer top quality because we use only up-to-date professional carpet cleaning machines. Among them are innovate truck-mounted vacuuming systems, powerful extractors and reliable steamers. That allows us to clean carpets of any size and material thoroughly and in a short amount of time. Our affordable carpet cleaning in London is excellent for allergy suffers because our specialised equipment easily removes allergens and pollens from the carpets' fibres.
London is home to Great Britain's seat of power – The Parliament, which is housed by Westminster Palace. Westminster is befittingly the largest palace in England. Running the UK is hard work so at the end of the day, government people have the option to unwind in one of the 8 bars within Houses of Parliament. These watering holes are kept quite cheap thanks to loyal taxpayer money. Oh, and there are also 6 restaurants, 1000 rooms, 100 staircases, 11 courtyards, 1 hair salon and a shooting range (somehow it fits right in).
London is home to two areas that have a city status – the City of London and the City of Westminster. The former also has a status of a separate country and it even has its own mayor, police force and laws. The City of Westminster, on the other hand, is one of London's boroughs. It also occupies an area of nearly 8.30 square miles which makes it nearly three times bigger than the City of London.