Aluminium foil can be found in almost every home simply because it is an incredibly practical invention. You can use it when you cook to contain food splatters or to speed up the roasting process. It is also an ingenious solution when you want to preserve cooked food (grilled meat in particular) or to preserve the temperature of a hot or cold dish. With so many excellent uses in the kitchen, many people often end up surprised when they learn that aluminium foil also makes an outstanding cleaning tool. It can:
Sanitise metal cooking pans and pots
Clean an iron plate
Polish silverware and water faucets
Remove rust
If this is the first time in which you hear about the fantastic cleaning properties of this popular household product, prepare because these next few paragraphs are about to enlighten you and change forever change the way in which you view aluminium foil.
Clean pans and pots from metal
Did you know that you can use aluminium foil as an alternative to dishwashing steel wool which is also known as metal scrubber? Still, rely on this strategy only for metal sets because it may damage the surface of your non-stick pans and pots.
Clean your iron
Removing fabrics that have stuck on your iron plate is a delicate task because if you are not careful, you can damage this small domestic appliance for good. To play it safe, take a piece of aluminium foil and place it on the ironing board. Put some salt over the foil and then switch on your iron. Once it reaches a high temperature, put in on the foil and move it back and forth a few times so that the salt can take the residue the plate. However, do not use any force and be very gentle because things may easily go wrong if you scratch the iron.
Polish faucets or silverware
Under the right condition, aluminium can cause the so-called ion exchange. This is a chemical reaction which can help you polish your silverware or faucets to perfection without even having to use any fancy cleaning products. Here's how to do that. To polish your silverware, take a pan, place the foil on it and add 5 cm of boiling water. After that, add some salt and baking soda and put your silverware in the pan. Each item should be in direct contact with both the aluminium foil and some of the other items. Let them sit in the water for a while and then simply wash them with some lukewarm water and dry them. In the end, they will be as shiny as they were on the day you bought them.
To polish chrome faucets, pour some water on the foil and use it scrub the surface of the faucet. That's all you will need to do. No toxic detergents, no fancy polishers. Just a piece of this miraculous domestic product. The only thing that can make your moving-out cleaning more affordable are Go Tenancy Cleaning's inexpensive end of tenancy cleaning in Church End N3.
Remove rust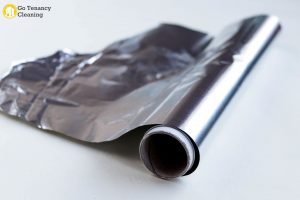 Once again, this trick works only on items made of chrome. Dip the foil into water and then just start rubbing the surface your chrome piece. When you remove the rust, dry the item and apply some polish on it to keep any future rust at bay.
Why stop here? You can use aluminium foil to clean many other things including a grill, dirty dishes, jewellery and more. Still, even this incredible household product and its exceptional cleaning superpowers cannot compete against a professional pre-tenancy cleaning in London. Trained cleaners can take on even aluminium foil because they are vetted, trained and meticulous.