It is quite important to have your end of tenancy cleaning requirements handled professionally by a qualified service provider, simply because your rental deposit hangs in the balance, and failing to organise a proper end of tenancy cleaning of the property can also be the cause of certain additional issues, or delays which may get in the way of your relocation to a new rental. If you don't want to go through this costly, frustrating ordeal, then by all means turn to Go Tenancy Cleaning Camberwell and let us deal with the situation effectively.
What we from Go Tenancy Cleaning offer is a professional cleaning service that specializes in cleaning rental properties in Camberwell before new tenants move in. The service covers a thorough post-tenancy cleaning of all rooms, including the kitchen, bathroom, and bedrooms. The aim is to leave your rented property in a spotless condition, so that you as a tenant to be eligible to get your deposit back, making it ready for the next occupants. The service is usually required by landlords or property management companies in Camberwell, and is designed to help ensure that the flat or house is well-maintained and meets their high standards.
We know professional cleaning inside out, and will be able to handle your end of tenancy cleaning requirements with the required efficiency and professionalism. Using our specialised end of tenancy cleaning services will also take away some of the stress associated with moving places, and give you a chance to catch a break. Having some extra free time during this stressful and hectic period will give you a chance to deal with more important aspects concerning your removal, or you can kick back and do the things you actually enjoy.
Camberwell is one of the older areas of London and has lots to offer in terms of culture, history and places to see and visit. If you are keen art fan, then Camberwell galleries and theatres are yours to explore, in the meantime we will have your end of tenancy cleaning completed to a professional standard finish, and with no extra hassles or additional costs.
Efficient and affordable variety of services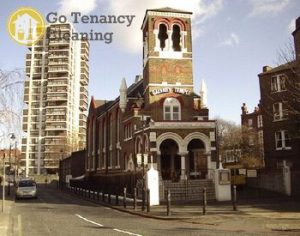 We guarantee to provide you with highly efficient, cost effective cleaning, with attention to detail. Our end of tenancy cleaning is a detailed service which covers all rooms and areas of the property. Every room or area of the house will be subjected to detailed, thorough cleaning which will yield the best possible results with no risk of damage or substandard results.
Go Tenancy Cleaning Camberwell works with skilled, professional cleaning technicians as we don't like leaving anything to chance, and working with dedicated professionals means consistent, high-quality cleaning results in every room, no matter how dirty or neglected. Naturally, special cleaning attention will be paid to heavy duty areas like the kitchen and the wet rooms, which require more cleaning effort and immaculate hygiene if they are to pass the final property inspection. Your end of tenancy cleaning can be performed using a landlord provided cleaning checklist.