If you haven't been too regular or persistent in your cleaning efforts during the term of your lease agreement, then chances are you would be looking to make up for some of the cleaning neglect through the end of tenancy cleaning. Don't worry about not being too effective or diligent with your house cleaning efforts as Go Tenancy Cleaning Cambridge Heath can help you deal with the situation in the most efficient and affordable manner.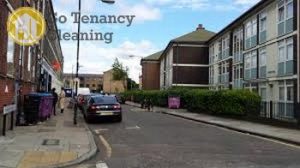 End of tenancy cleaning is a compulsory requirement for most vacating tenants. Usually whether or not tenants are eligible to receive their rental deposit back in full, depends on the level of cleaning results, and whether or not the rental property has sustained any excess damage during the rental period. We will do everything in our power to clean the rental as per your landlord's requirements and fulfil your end of tenancy cleaning obligations, but repair of physical damage will not be part of our service. Apart from that, we will have the entire property looking clean and smelling fresh within a matter of hours, and without excess cost or hassle for our customers.
Skilled professionals that will handle the job on time
Our well organised, attentive cleaners will visit your address at the specified time and commence work immediately, as we want to have everything cleaned to an industry standard finish within the shortest amount of time, and with no excess disruption to your daily schedule. If you got things to do, by all means go out and keep up with your daily commitments, as our expert cleaners are highly skilled professionals who require no supervision during cleaning, as they have the expertise to handle every aspect of your end of tenancy cleaning with the required pace, precision and efficiency.
Not having to supervise the cleaners will translate to more free time for you, which means you can check out the many attractions and street markets around Cambridge Heath.
Go Tenancy Cleaning Cambridge Heath is looking to reduce our service costs in every way we can, without compromise on quality or efficiency of course. In order to do this we work with professional grade cleaning systems and equipment, and apply only industry approved cleaning products and materials which yields better results and reduces cleaning time. More so, we train our cleaning teams to work with a minimum water and resource waste, which is good news for our customers and their budget.