Having to deal with nuisance chores like end of tenancy cleaning, or dealing with pesky or overly demanding landlords while trying to vacate the current rental property timely, and still fulfil your daily social and work commitments can be a real challenge, even for the well prepared. One way to get things back on track and compete everything timely, is to let us deal with your end of tenancy cleaning obligations, while you are out working, being with your family or simply spending time away from all the hassle and commotion concerning your removal.
Our specialised end of tenancy cleaning service is highly efficient and very affordable. We work closely with rental agents and landlords in and around the Canary Wharf area, which puts us a step ahead of the competition, because we know exactly what is required of a professional grade end of tenancy cleaning service. Being aware of this means we can provide our customers with more efficient cleaning, and yield better results, putting them one step closer to receiving their rental deposit back. Although you may not be strapped for money right now, having some extra cash in your pocket i.e. the rental deposit, might come in handy and help you cover any unexpected costs along the way.
Who are we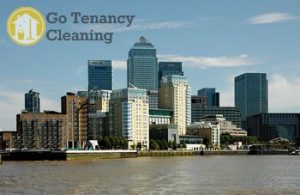 A few words about the company and the service itself – Go Tenancy Cleaning Canary Wharf is an experienced and well-established, professional cleaning company, which specialises in highly efficient end of tenancy cleaning services with guaranteed results. We have sufficient industry experience and handle each cleaning job accordingly, no matter how tough or complex. The end of tenancy cleaning service we offer is fully comprehensive and covers the entire property from top to bottom.
Competitively priced end of tenancy cleaning in E14
Our efficient end of tenancy cleaning services in Canary Wharf E14 is available for private and business customers in London at a very low price. We, at Go Tenancy Cleaning, strive to offer our customers with top quality at a minimal price through our personalised quotations and diligent style of work. Every cleaning specialist on our team is properly trained and our convenient end of tenancy cleaning services in E14 Canary Wharf are easily tailored to meet the needs of the client.
If you have any specific or additional cleaning requirements, please inform us in advance and Go Tenancy Cleaning Canary Wharf will handle those for you with minimum cost and no extra fuss. In case you have been provided with a cleaning checklist by your landlord, then our cleaning teams will be more than capable to perform the cleaning as per the checklist instructions and ensure everything is covered. Our end of tenancy cleaning is carried out by specially trained professional cleaners who know their work inside out, and handle each aspect of the cleaning process with professional pace and efficiency. We are available for booking seven days a week, and provide convenient service hours.
Canary Wharf is one of the two main business districts in London. It is situated in the Borough of Tower Hamlets in the eastern part of the UK capital and many of the world's most powerful organisations have chosen to set their headquarters namely there. One Canada Square, which is the second tallest building in the United Kingdom, is also located in E14. It has a height of 235 metres and it was built in 1991.