Moving out of your current rental doesn't have to be the costly, nerve racking experience most tenants expect it to be. Indeed, keeping up with landlord cleaning requirements, organising the actual removal, and trying to be a fully functioning member of society at the same time, could be rather frustrating and demanding, even for those who have moved places in the past.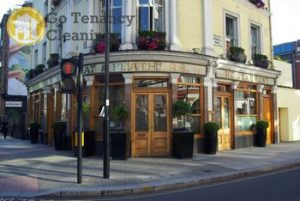 One way to make the whole process much easier and more efficient, needless to mention more affordable, is to let us – Go Tenancy Cleaning Clerkenwell deal with your end of tenancy cleaning requirements while you take care of more important issues concerning your relocation. With us, meeting your end of tenancy cleaning obligations is easy and won't cost you a pretty penny. Although we provide arguably the most comprehensive and efficient, professional grade end of tenancy cleaning, we won't charge you a small fortune for it, and yield the right results without any extra costs or hassles.
The level of results and the quality of our end of tenancy cleaning, has made us the preferred service provider in Clerkenwell and the EC1 area altogether, as we can do things better, faster and cheaper than the rest. Our aim is to handle your end of tenancy cleaning with professional pace, precision and efficiency in order to save you a ton of landlord hassles on the way out. Our super-efficient cleaning teams will arrive at the property at the requested time and commence work without further delay or mucking around, as we need to have everything completed within the specified amount of time, and be out of your way as soon as we can. We will try and complete the end of tenancy cleaning with minimum disruption to your schedule, and with no further delays or timewasting.
Your cleaning job completed on time
Go Tenancy Cleaning Clerkenwell employs only qualified, professional cleaners who have the skills and expertise to yield exceptional cleaning results and cancel out the risk of damage. Our end of tenancy cleaning service is fully comprehensive and covers every square inch of the rental property, in order to ensure the level of hygiene and cleaning results corresponds to your landlord's expectations. For best results, no risk of damage and shorter cleaning duration, our cleaners work with professional grade cleaning systems and equipment, and apply only industry approved, nontoxic cleaning products and materials. Service bookings are available seven days a week.