If you are moving out of your current rental property, and looking to make the process easier and more manageable, then by all means take the time and effort to arrange for a professional end of tenancy cleaning of the property as this would save you a ton of issues and unnecessary landlord hassles. Organising a good quality end of tenancy cleaning for the rental will also allow you to receive your rental deposit back from the landlord, which means you will have some extra money in your pocket that can come in handy during the removal.
One local company that can provide you with high quality end of tenancy cleaning without the usual high costs is Go Tenancy Cleaning Clapham where you can find the best end of tenancy cleaning services available right now. We deal exclusively with rental customers and end of tenancy cleaning which makes us a natural choice for customers who are looking for top quality end of tenancy cleaning in and around the SW4 area.
Get ready for your final tenancy inspection with us
When you secure your end of tenancy cleaning through us, you will receive highly efficient, cost effective cleaning that is guaranteed to meet and exceed your landlord's expectations. The end of tenancy cleaning we provide is a detailed service that covers the entire rental property from top to bottom, including hard to reach or out of sight areas, which will also be part of the final property inspection.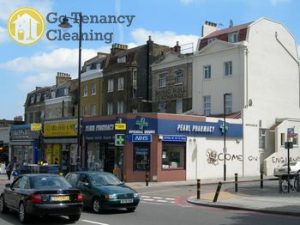 The end of tenancy cleaning will subject each and every room of the property to thorough cleaning, performed using professional grade cleaning equipment and materials and industry certified cleaning products and materials. Using the right gear for each task reduces cleaning time, yields better results and minimises water and resource waste.
Go Tenancy Cleaning Clapham works with specially trained, professional cleaning technicians who have the industry experience and practical skills to handle the entire end of tenancy cleaning with all due care and attention. Working with qualified professional cleaners also cancels out the margin for error or damage to surfaces and materials around the house. As expected, our diligent and well organised cleaning teams can carry out your end of tenancy cleaning as per a cleaning checklist provided by your landlord or letting agent.
Our service is adequately priced and gives customers genuine value for money, and highly efficient cleaning with attention to detail. We provide convenient week round servicing.