If you are a rental customer based in Chislehurst or around the BR7 area, and looking to meet your end of tenancy cleaning obligations in the most efficient and affordable manner, then by all means make us your top company choice, and let Go Tenancy Cleaning Chislehurst deal with your end of tenancy cleaning, while you deal with more important issues, concerning your relocation. We specialise in professional grade end of tenancy cleaning, and will be able to cover general and specific cleaning requirements without additional hassles or excessive service costs.
A genuinely good cleaning service
Our industry experience and years of working closely with rental customers and landlords in and around Chislehurst, and the BR7 area have allowed us to develop and provide a genuinely good end of tenancy cleaning service that corresponds to landlord and customer expectations and requirements in full. With us you have nothing to worry about, as we know how to handle the entire cleaning process safely and efficiently, and within the shortest time possible too.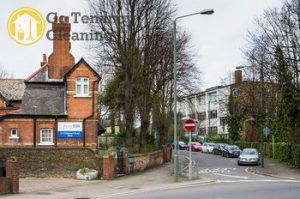 We recommend having the end of tenancy cleaning carried out just before the final property inspection, as this would present your landlord or letting agent with a perfectly clean interior and immaculate hygiene across the house.
As expected, we perform the end of tenancy cleaning service in accordance to a landlord provided cleaning checklist serving as the guidelines as to how they want things done. If there's no such checklist provided by the landlord or the letting agent acting on their behalf, then our specially trained, cleaning technicians will devise and implement their own cleaning checklist in order to make sure your end of tenancy cleaning requirements are met in full.
Go Tenancy Cleaning Chislehurst will provide you with the most comprehensive and attentive end of tenancy cleaning around. The service will cover the entire rental from top to bottom, including hard to reach or out of sight areas.
Furthermore, our cleaners will ensure immaculate hygiene in tough to clean rooms like the kitchen, the toilet and the bathroom, which will be under additional scrutiny during the final property inspection. We understand that customers' rental deposit is at stake, and they require top-quality cleaning minus the usual high costs.
In order to make this happen, we work with high-quality, professional cleaning systems and materials, and industry approved cleaning products. This allows for better results, reduced cleaning time, and no risk of damage.
Chislehurst is situated in the borough of Bromley in the South-East part of London, and is considered a desirable area for those seeking a suburban lifestyle while still being close to the central district of city. Chislehurst is known for Scadbury Park and Chislehurst Commons, and historic landmarks such as Chislehurst Caves and the Old Crown Inn. The ward also offers a range of shopping, dining, and entertainment alternatives, making it a well-rounded and desirable place to live in. Whether you are looking for a family-friendly environment, access to green spaces, or a convenient location, Chislehurst offers something for everyone.