Your moving out of your current rental accommodation happens to be an excellent opportunity to put our highly efficient, professional grade end of tenancy cleaning service to the test and see the difference professionalism and expertise can have for your cleaning request.
Our name is Go Tenancy Cleaning Ardleigh Green and we specialise in professional end of tenancy cleaning with guaranteed results. There is no job too big or too complex for us to handle, as we have been an active part of the cleaning industry for long enough to know what customers and landlords expect of a high quality end of tenancy cleaning service.
RM11 – Ardleigh Green's best move out cleaning team
So, how do we do things? Well, simply and efficiently is the way to go. When you book your end of tenancy cleaning service through us, we will schedule the cleaning session for a suitable time, which may be in the evening or early in the morning, it all depends on your personal preferences and availability. We recommend booking the service for the latest possible moment, even the last day before you move out because the property will be clean, fresh and perfectly sanitised for the final inspection. After all tenants need their rental deposit back in full, and making the most of each opportunity is quite important.
Our diligent and well organised cleaning teams will arrive at your address at the right time, and commence work immediately in a structured, unobtrusive manner. We need to have the end of tenancy cleaning completed within the shortest time possible, so that you can move on to dealing with more important issues concerning your relocation. Professional end of tenancy cleaning happens to be our job, and we know how to make things work in your favour.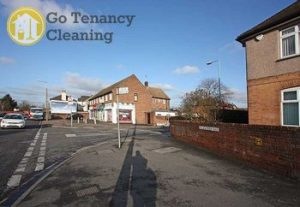 Our teams will clean every square inch of the house and complete the job to an industry standard finish. Extra effort and attention will be invested into bringing heavy duty areas like the kitchen, and the wet rooms back into shape, as those will be inspected in detail by the landlord or the rental agent.
Go Tenancy Cleaning Ardleigh Green care for the health and wellbeing of our customers and the environment, therefore we don't use any toxic chemicals or aggressive cleaning substances and acids during any of our end of tenancy cleaning jobs. Our cleaners are also trained to work with a minimum water and resource waste policy.