Moving out of your current rental? If so, then you have plenty to do, and quite a few issues to deal with. Besides the usual stress and fuss around the actual removal, there is something else that should be topping your to-do list, and that is to organise a professional end of tenancy cleaning for the property you are currently vacating.
We at Go Tenancy Cleaning Aldgate can offer you our professional and cost effective end of tenancy cleaning service as the adequate and efficient way to deal with the situation with the least amount of hassle or delay. We have been serving the EC3 area for some time now and work closely with local landlords and letting agencies in and around Aldgate.
Leading end of tenency cleaning team in EC3
Our dedication and professionalism are unrivalled, and we invest every bit of effort and tenacity in everything we do in order to provide you with punctual and reliable end of tenancy cleaning, and results of the highest quality. Your landlord will be very pleased with the level of cleaning results as we know what is required and expected of a top quality, professional end of tenancy cleaning service. When you secure your end of tenancy cleaning through us, we will send you an adequate number of uniformed, well-mannered cleaning technicians who have the skills and expertise to complete the entire cleaning service within the specified amount of time, and with no risk of damage or neglect.
Call to book cleaners in Aldgate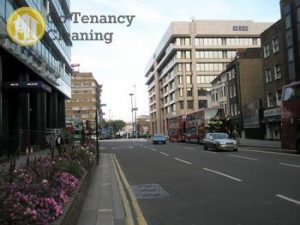 The cleaners will perform their duties in a well-organised, highly efficient manner without any extra fuss or hassles for customers. Our cleaning teams are equipped with professional grade cleaning systems and materials, and trained to use nontoxic, industry approved cleaning products. Go Tenancy Cleaning Aldgate provides the most comprehensive and attentive end of tenancy cleaning available right now. Our cleaners will clean every inch of the property to a perfect finish, if necessary they can work their way through a landlord provided cleaning checklist and meet specific criteria and requirements. Let us deal with the cleaning for you, while you enjoy a well-deserved break.
Aldgate is in the heart of London so there is plenty to do in your newly found free time, in the meantime, our expert cleaning teams will have the entire rental property looking clean and smelling fresh like never before. Our cleaning services are available for booking seven days a week, with convenient service hours.