Another tedious chore needs to be done – you need to wash your windows. Since you are not an expert in cleaning like Go Tenancy Cleaning experts that offer efficient end of tenancy cleaning in Aldwych WC2, you might be repeating common mistakes that force you to redo your work. However, to make sure you get it right the first time, we bring you a few common mistakes you might be doing when cleaning your windows and expert advice on how to avoid them.
How you are supposed to do it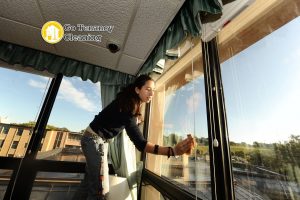 Before you start, make sure you have a microfiber cloth and a quality glass cleaner – that's all you will need. The first step is sweeping dust and dirt from the window, screen and surface with a dry brush. You can also vacuum it for quicker and more efficient results. You are doing this to prevent all that dirt turning into a muddy mess when you spray it. Next, spray your window with a glass cleaner and wipe it with a microfiber cloth. The best way to avoid visible streaks is to wipe one side of the window vertically and the other horizontally. If necessary, repeat the process until you get shiny results.
However, if you don't have the time or you are just not into washing windows, you can hire a professional and reliable cleaning company in London that provides safe and green cleaning solutions and makes your windows shiny and sparkling.
Mistakes you might be making
You might not even realise that you are doing something wrong but cleaning your windows require proper strategies like any other household chore. You work hard and still end up with streaks and half-cleaned surfaces. Here are a few common mistakes you might be making without even knowing.
Sun is your enemy – Most of us only see how dirty our windows are when the sun is up, right? We instinctively grab a cloth and get down to it. Wrong. Cleaning your windows in the blazing sun will only cause the cleaner to evaporate and get dry before you even get the chance to wipe it off. As a result, you will end up with stubborn stains and smudges. Instead, make sure you choose a cloudy but a dry day or wait until the sun is on the other side of the house to clean your windows.

You skip the first step – dusting – If you don't dust the window and the frame before you start with cleaning, all the dirt and dust will turn into a huge mess that will be hard to remove. Dust it prior cleaning and make sure you finish cleaning frame first and leave the glass last.

You are stingy a bit when spraying – Even after you clean the frame first and choose a cloudy day to wash your windows, somehow you still see impurities and lines. Well, there might be a simple explanation for this – you don't use enough cleaner that will dissolve the dirt. Only after you spray properly and wipe away, you will have cleaned glass.

You dry the glass with newspaper – This old trick used by your grandmother is just not working for you. Why? Because newspapers are everything but absorbent and they are very messy. Instead, you can use a microfiber cloth for excellent shiny results. Moreover, they are washable so you can reuse it as many times as you want. You are doing your part in preserving your environment by this move.