If an office is not properly and thoroughly cleaned, it can easily turn into a virus and bacteria hotspot. That is why it is not uncommon for office workers to regularly suffer from colds or to even develop allergies. To maintain your office in a presentable and health-friendly state, you must make sure it is always clean and neat. You will be surprised to learn how many companies fail to do that. Why? Because they make various office cleaning mistakes related to the cleaning process':
Quality;
Regularity;
Timing;
Efficiency;
Not cleaning regularly
When things get too busy in the office, you probably choose to postpone the cleaning for a while until the atmosphere quiets down a bit. Don't do that. Make a strict cleaning schedule and follow it. For instance, clean every Tuesday and Friday. If you struggle to follow this rule, use convenient office cleaning services in London. In that way, your workplace will always look great.
Asking employees to clean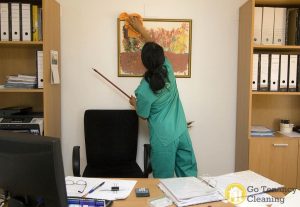 This leads us to the second most common office cleaning mistake – asking employees to do the cleaning. Unless vacuuming and dusting is part of their job description, it would be unfair to make your team to do the dirty job. Also, it will make everyone in the office less productive. So, once again – hire trained pros and let your employees do their own job.
Keeping the bin always full
By midday, most office bins are overflowing with rubbish. This is quite normal for large workplaces and it cannot be avoided. That, however, does not mean that you should leave the bins full until the end of the day or even until the next morning. Dispose of the rubbish regularly and ask your team not to throw food in the bins located in the working areas of the office, like those by the desks, for instance. This will keep the air in the office free of any unpleasant smells.
Skipping the dirtiest areas
Vacuuming the floor is not enough to keep a workplace clean. There are many areas in the office that are even dirtier than the floors. Those include computer keyboards, desks, light switches, as well as equipment used by everyone in the room (printers, copying machines, water dispensers and more). These are the spots that have to be cleaned even more regularly than the floor or the windows in the office.
Cleaning when everyone is trying to work
While it is good to keep the office clean, you must not get carried away with your efforts in that direction. For example, the cleaning should not take place during work hours. That is unless you want your employees to get distracted and to start making mistakes. Even lunchbreaks are not a great time to clean the office. Some people prefer to have their lunch at the desk, others may be in the middle of going through important files and documents. The cleaning process may easily usher chaos in the office environment when it is done in the middle of the day. It is best to leave that task for when everyone has left their workplaces.