Carpets are notoriously hard to keep clean and tidy. Even though they are voted continuously among the best flooring solutions for one's home, they require extra effort and some skills to be maintained in top condition. That is why here we have decided to gather some tested strategies on how you can do carpet and rug cleaning without much hassle, and up the desirable results, we are all after.
Tips for everyday carpet sanitation and maintenance
The best course of action as far as carpets and rugs are concerned is consistency. If you want them to look as good as the first time they arrived from the store you are going to put a little bit of energy and spend time on them every day. Depending on the location of a given carpet or rug in your home, these may vary in volume. High traffic areas such as the living room and hallways near the front door might need to be vacuumed every day. For others, less frequented areas, it might be enough to run a vacuum once or twice a week. Also, if you have recently done some renovation work inside the house and you have messed up your carpeting, use a risk-free after builders cleaning service in London before you get to the carpet cleaning part. Placing a doormat at your front door and wiping your feet before you go home may prevent a substantial amount of dirt and other unwanted particles from entering your house and building in your carpets and rugs.
Stain removal
There are several things that you need to know about stains:
The longer you wait to remove them from the carpets, the harder it will become to do it
There is a difference between food, drink and pet stains
There are home remedies that you can use
Blot the damaged area immediately after a spill, using a white dry cloth. Try not to spread the liquid on a greater area than it already is. In your local supermarket, you are going to find detergents that have been designed specifically for stain removal – from wine, food, coffee, pet urine etc. Even though it might be a good idea to have some of those in stock at your home, if you don't there is no need to panic. A tepid water and white vinegar solution is usually good enough for stain removal of any sort, as long as you do not wait for the liquid to dry up and build in the fabrics of your carpets. Sprinkling baking soda on the area is perfect for removal of bad odour – cover the spot completely, let it stay for half an hour and then vacuum it.
For those special circumstances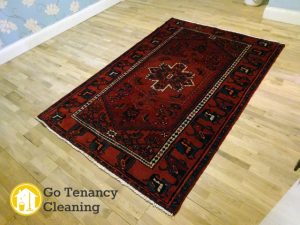 After a big house party, or once you are moving out of your property, your carpets might require some extra attention. That is the perfect moment to seek professional assistance. There are superb end of tenancy cleaning services in Bowes Park N22 and other places in Greater London that come with a carpet cleaning option that will do the trick.
Hiring professional cleaners will be a good idea when your carpets and rugs are made of special, more sensitive materials that require special tools and methods to be cleaned too.
Caption: Having a clean, fresh looking carpet is not a mission impossible