It's barbecue season! The summer is here and people are setting up the old grill in its strategic backyard or lawn position for another season of sizzle, drizzle and laughs with family and friends. One thing about barbecue grills though – they need cleaning, and if the good old barbecue hasn't been cleaned since last time it was used then here's some basic advice on how to deal with the situation quickly and effectively, and with least amount of elbow grease of course.
Let's begin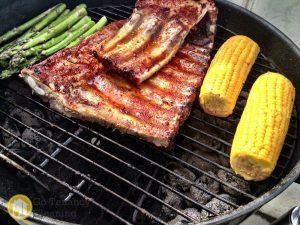 It should be known that even after months of sitting neglected and uncleaned in the shed or garage, the barbecue can still be cleaned quite easily, without too much effort and hassle. In case you wish to bypass the whole scrubbing and rubbing thing altogether, consider some qualified help from companies like Go Tenancy Cleaning in Chelsea, they offer a wide range of services besides tenancy clean ups, including specialised appliance cleaning which can include grill and barbecue cleaning.
When using and cleaning your barbecue always use common sense and follow the manufacturer's instructions – stay safe, keep summer fun!
Place the grill back on the barbecue and turn up the heat. The barbecue grill has to heat up properly for best cleaning results.
Close the barbecue lid and do not turn off the heat for about 15 to 20 minutes, this will burn off any food leftovers, burnt on residue etc. and make the entire cleaning process so much easier.
Once all food scraps inside the barbecue have burnt off, which should have happened in about twenty minutes, open the lid carefully and let the thing cool down then scrub all parts that need cleaning with a steel brush to remove all traces food leftovers. Work your steel brush in all the nooks and crannies to get all of the grime out.
Deep cleaning your barbecue
The above are just three basic steps for quick barbecue cleaning i.e. when the thing get used at least once every fortnight or so. If however you haven't touched the barby in more like a month or two, then chances are you need to perform a tat more thorough bbq cleaning. Here's how to go about it:
Perform the quick clean-up listed in the three dot points above, again be careful when being around hot surfaces!
Organise some warm soapy water and scrub away at the barbecue grill and the other bits that need cleaning, wait for it to cool down sufficiently before doing any of this. Optionally use a specially formulated barbecue cleaner, but make sure it's nothing abrasive.
Once you have all the bits and pieces cleaned properly, rinse them off the soapy water and rub a small amount of vegetable oil over the freshly cleaned parts and grill – this will prevent rust and keep them easier to clean, whenever you use them next.
The cleaning process for barbecue trays and burners is somewhat similar, though some specifics depend on the type of barbecue i.e. gas, coal/wood or electric. In all cases stay safe and consult with your user manual.