You have decided to change the ambiance of your home by reforming your living room. However, there are so many options in front of you, that you cannot determine which would have the greatest impact and drastically alter the overall atmosphere of not only the area but also the entire household. Here are five ideas, which you will find very interesting and the best part is that some of them are budget-friendly.
Let the sun enter by mounting additional windows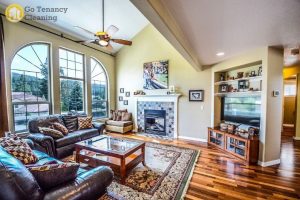 Allow natural light to pour into your living room by installing new windows. This will also give you the opportunity to update your window treatments and therefore change furthermore the mood of the area. If you`re not limited by your budget, you can do a major overhaul by replacing your current windows with larger and taller, floor-to-ceiling windows, which will give to the room a more lively touch and will permit you to reduce your energy bills as you won't be using the lights during daytime when it is cloudy or rainy.
Replace the lighting fixtures
The lighting industry has come a long way since the introduction of the light bulb. Today, there is an abundance of fixtures on the market that you can use to provide the right levels of artificial illumination and use as contemporary decorative features. Interior designers, lean towards metal and glass lighting fixtures, which have a geometric shape or pattern in order to add a playful and yet interesting touch.
Enhance the storage capacity of the room with new shelving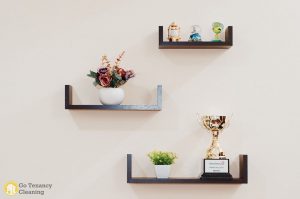 Storage is an issue in most households, as there never is enough space to keep everything that one has in his home. You can easily solve two problems with one single remodelling project during which you will mount floating shelves in your living room. This will change the ambiance of the area and will increase the storage capacity of the room. Once you have installed the shelves, you will instantly notice that the room will need a complete sanitation, a job that can be handled easily by contacting Go Tenancy Cleaning as they are professional sanitation specialists who provide affordable after-builders cleaning services in London.
Showcase your artistic side and modernise your living room by hanging paintings and photographs. Be bold and go with larger pieces. In fact, experts share that one or two large paintings are more than enough to anchor a room. If that is not enough for you, you can purchase smaller items from a local gallery or antique store, and display on the floating shelves that you have recently added to the area.
If you`re not happy by the fact that you have a small living room, you can do something about it by hanging mirrors on the walls. They will create the illusion that the area is much larger. If you aren't fond of mirrors, you can paint the walls with horizontal (makes the room larger) or vertical stripes (makes the room taller). Just make sure that you choose a colour that match the overall palette of your household.