We hope you are ready for a trip around the world because we will now take on one such adventure. But before you get too excited, we feel the need to clarify that this trip will only be a virtual one and it will focus on cleaning or, to be more specific, in cleaning hacks used in different parts of the globe. Prepare because some of the tips you are about to read may sound quite unconventional to you or they may even oppose some of the long-established cleaning traditions in the UK. Still, the pieces of advice which you are about to get in a minute are worth your while. What is more, they are worth trying out because they offer great results and they will enable you to easily keep your home clean.
Taking your shoes off at the door
Some old American homes have a so-called mudroom where you can either change your shoes or take them off before you enter the house. In other countries in Asia, Eastern Europe and the Arab world, people simply take their shoes off when they are at their home or even when they are at someone else's property. People have their different reasons for doing that:
Arabs believe that the shoe soles are impure
In Japan, they walk barefoot indoors to avoid getting the floor dirty as they sleep and eat namely on the floor
In many Slavic and Eastern European countries, especially in those that have long and harsh winters and autumns, people take their shoes off to keep the snow and mud outside
In Austria, it is considered unhygienic and rude to keep your shoes on in a home environment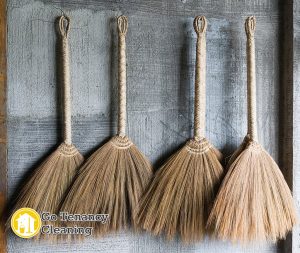 You should take a leaf out of these countries' books because that will help you maintain your carpets, rugs and floors cleaner for a long time. Don't worry, you don't have to walk around barefoot. You can get yourself a nice pair of slippers which you can wear when you are at home. When the time comes to move out of your home and to use a trusted end of tenancy cleaning service in Chiswick W4, for instance, you will thank us for this tip as you will not need to spend a fortune on carpet and rug cleaning.
Give your rugs a good beating every now and then
Speaking of rugs, Eastern Europeans still practice the ancient art of rug beating. In Russia, they even like to do it in the snow. If you have an old rug or one that is made of sturdy and durable fibres, you can give it a good beating too to loosen up the built-up dirt. Just make sure you don't do that too often since you may end up damaging the rug. Combine that with deep carpet cleaning in London for optimum results.
Sweep the kitchen floor after dinner
In Malaysia, it is a common tradition to sweep or mop the floor after dinner. In that way, your dining area will be always presentable and cockroaches will be less interested in creeping around your house at night looking for bread crumbs on the floor.