Westminster is a city and a London Borough that consists of a little over 20 districts. However, four of them seem to perfectly capture the cornerstone aspects of its character. They are quite different from one another and yet they are united by the fact that they are located in the City of Westminster – the home to some of London's most iconic landmarks. These are the districts of Belgravia, Chinatown, Charing Cross and Aldwych and they each show a unique side of this London Borough, a side which we will unveil to you now!
Belgravia – expensive, desirable, exclusive
The City of Westminster is a desirable part of General London as a whole. Some of the most affluent areas in the UK capital are located namely here. Among them is Belgravia – an exclusive district with predominantly expensive properties that only foreign billionaires can afford to buy. And yet this is not a place in which you will see an extravagant display of wealth. Those who are lucky enough to live in Belgravia enjoy a lot of privacy even though they are just a stone throw away from London's most important attractions, shops and buildings. Everything here is refined and of a top quality. Even professional end of tenancy cleaning services in Belgravia SW1 are outstanding. As for the local properties, most of them are an excellent example of classic architecture. The beautiful stucco houses in the district have even become one of SW1's trademark symbols. Other affluent districts in the Borough of Westminster include:
Marylebone;
Knightsbridge;
Maida Vale;
Hyde Park;
St John's Wood;
Mayfair;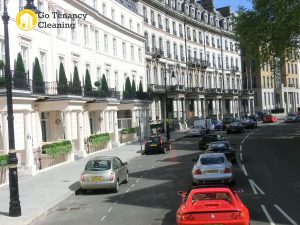 Pictured: Belgravia, City of Westminster
Chinatown – diverse, colourful and fun
It would be wrong to assume that the City of Westminster is a part of London reserved only for the superrich because it also features areas such as Chinatown. This is a rather small neighbourhood which is set Soho and just four decades ago it did not even exist, at least not under the form we know it today. As you can guess by its name, Chinatown is a place where you can find a great selection of all things Chinese such as Chinese restaurants and souvenir shops. The streets and the buildings in W1 are covered in Chinese symbols and writings and locals even mark the arrival of the Chinese New Year with big celebrations. That is because most of the people who live in Chinatown are east Asian. Prices here are acceptable which is why one can easily find budget-friendly end of tenancy cleaning services in Chinatown W1. Many visitors of the English capital are often surprised to see such a fun and colourful spot located so close to the city centre but in Westminster everything is possible.
Charing Cross – the heart of London
Speaking of the city centre, Charing Cross is often called the historical centre of London. It too is set in the City of Westminster and it is not very large size-wise. However, it shows yet another interesting side of the borough – city-centre living. The traffic here is always busy which makes the area quite noisy, crowded and hectic. After all, this is London's heart and it is only right if it beats loud and proud. Why proud? Well, because here you can also see many of the UK capital's most remarkable sights. Some of those include Trafalgar Square, Eleanor Cross, the Statue of Charles I and the National Gallery. Since it is situated at the very centre of London, this area has everything – from world-known landmarks and a large railway station to theatres and reliable end of tenancy cleaning services in Charing Cross WC2. The same can also be said for the London Borough of Westminster too. It has so many diverse districts on its territory that it offers something for everyone who visits it.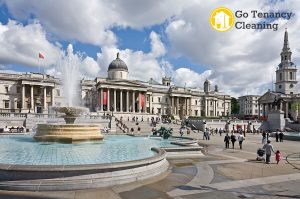 Pictured: Trafalgar Square, Charing Cross
Aldwych – history everywhere you go
Westminster is the place where you can see a great part of London's most notorious historic landmarks. It is a borough in which everything has an important place in history. Such is the case with Aldwych. On one hand, it has a quite modern appearance since it is part of the Northbank business improvement district and one can easily book innovative end of tenancy cleaning services in Aldwych WC2. On the other hand, it is an area in which even the tube station has such an impressive history that it is worth visiting.